What to Eat on Keto – FAQs from readers and followers
Q. What foods can I consume on Keto?
A. Keto is a low-carbohydrate diet, you should consume daily 10% carbohydrates 70% fats, and 20% proteins. Food low in carbs like fatty seafood, seeds and nuts, dairy and eggs, and keto-safe veggies like zucchini, tomatoes, cucumbers, cauliflower, and squash should be on your menu.
Q. Is peanut butter Keto?
A. Yes, you can, but be careful! The peanut butter brings quite a bit of carbs, 3g per table spoon that's 50g for a cup! My favorite Poulet a la Muambe (Congolese version) calls for 3 cups of peanut butter or 150g of carbs for a serving of 6 🙁
Q. What can I consume on keto?
A. You can focus on sugar free and low carb item. This post gives you a good idea of what to eat on Keto. Many stores have lines of Keto products, yet always check the nutrition labels. I have seen carb bombs sold as Keto just because no sugar is added.
Q. Can I have beer or wine on keto? Too much alcohol intake is never ever safe. Wine and beer have some to  a lot of carbs. A can of regular beer brings from 2g (ultra light) to 30g, with the Michelob Ultra with 2.6g carbs, but it's almost flavorless. A flavorful good IPA beer shows up with 27g.  Wine is better as its carb content is around 3g for one glass – Brut Champagne has less than 2 grams of carbs. So, moderation is key 🙂
Q. What can you consume for breakfast on keto?
A. There are a few breakfast choices when on Keto. I publish several delicious keto breakfast easy to make. Zero sugar yogurt, low-carb cereal with almond milk, etc. The good old Cheerios have 30g of net carbohydrates per cup.
Q. Can you consume bread on keto?
A. Yes and NO. A slice of the regular French bread gets 30g of carbs, one medium size dinner roll some 20g of net carb, but Almond flour bread has only one carb. The
Extraordinary Bites bread has only 1g of carb but it contains gluten.
Q. Can you consume bananas on keto?
A. No, bananas are a great source of nutrients but are carb bombs with about 31 grams of net carbohydrates – for me it's tough as I LOVE bananas but trying to stick below 50g a day is impossible after eating a single banana.
Q. Can I consume potatoes on keto?
A. Nope… Potatoes are starchy veggies which contain too much carbs. Just one cup of baked potatoes cost you 37g. Home made French fries will cost you 55g per medium serving and a chain restaurant serving goes to 70 grams…
Q. Is Rice keto-friendly?
A. No, rice is not for a keto-friendly diet. There are alternatives like cauliflower rice with 3g per cup while regular rice has 50g and NO, wild rice is worse with 120g per cup 😱
Q. Can you consume pasta on keto?
A. No, regular pasta like spaghetti has some 47g of carbs per cup which is not much. Macaoni is even worse with 75g per cup! But there are many options like The Keto Pasta with 3g of carbs, the Impastable Pasta 6g of carbs and 36g of fiber or you can do as we do we make our own with almond flour, for example, which brings 4g of carbs only.
Q. Are tomatoes Keto?
A. Yes, tomatoes are keto-friendly. Tomatoes are fruits, and every cup of tomatoes has 4-5 grams of carbs. They are low-carb foods that are easy to add into your keto diet plan but, as usual, don't abuse.
Q. Is cheese good for a keto diet?
A. Yes, cheese is always a great idea when on Keto. Cheeses are high in fat, low in carbohydrates, and moderate in proteins. Harder cheeses have fewer carbs than soft cheeses, but these are still in check.
Q. Is broccoli a keto food?
A. Yes, broccoli is a keto-friendly food. One cup of broccoli includes just 5 grams of net carbohydrates. It has 2g of fiber/cup plus vitamins C and K.
.Q. Are onions ok for keto?
A. Yes and No, a cup of sliced onions has 11g of carbs. But a medium onion ring breaded and fried can go up to 30g per serving. So, enjoy with moderation!
.Q. Can you consume milk on keto?
A. Yes and No… One cup (8 floz) of milk, any fat content brings 12g of carbs – no bad but too high if you're on a 20g a day. There are other options like Macadamia milk with 1g of carbs/cup, Hemp milk with 1.3g of carbs/cup, Soy milk with 1.6g of carbs/cup or even Almond milk with 2g of carbs/cup. As I don't like the flavors of these "milk", I consume a little of dairy milk. The sugar comes from lactose so we could think that the lactose free milk would be zero carb, right? Nope as manufacturer replace lactose with sugar and that milk comes with 13g of carbs per cup 🙁
Q. Is Mushroom helpful for keto?
A. Yes, a mushroom is keto-friendly. Mushrooms are low in carbs and are one of the healthiest vegetables you can use on a keto diet. They are low in carbs (3g per cup of sliced ones), calories and fat but they are rich in potassium, magnesium, zinc and folate. I'll write a post on Mushrooms in a keto diet.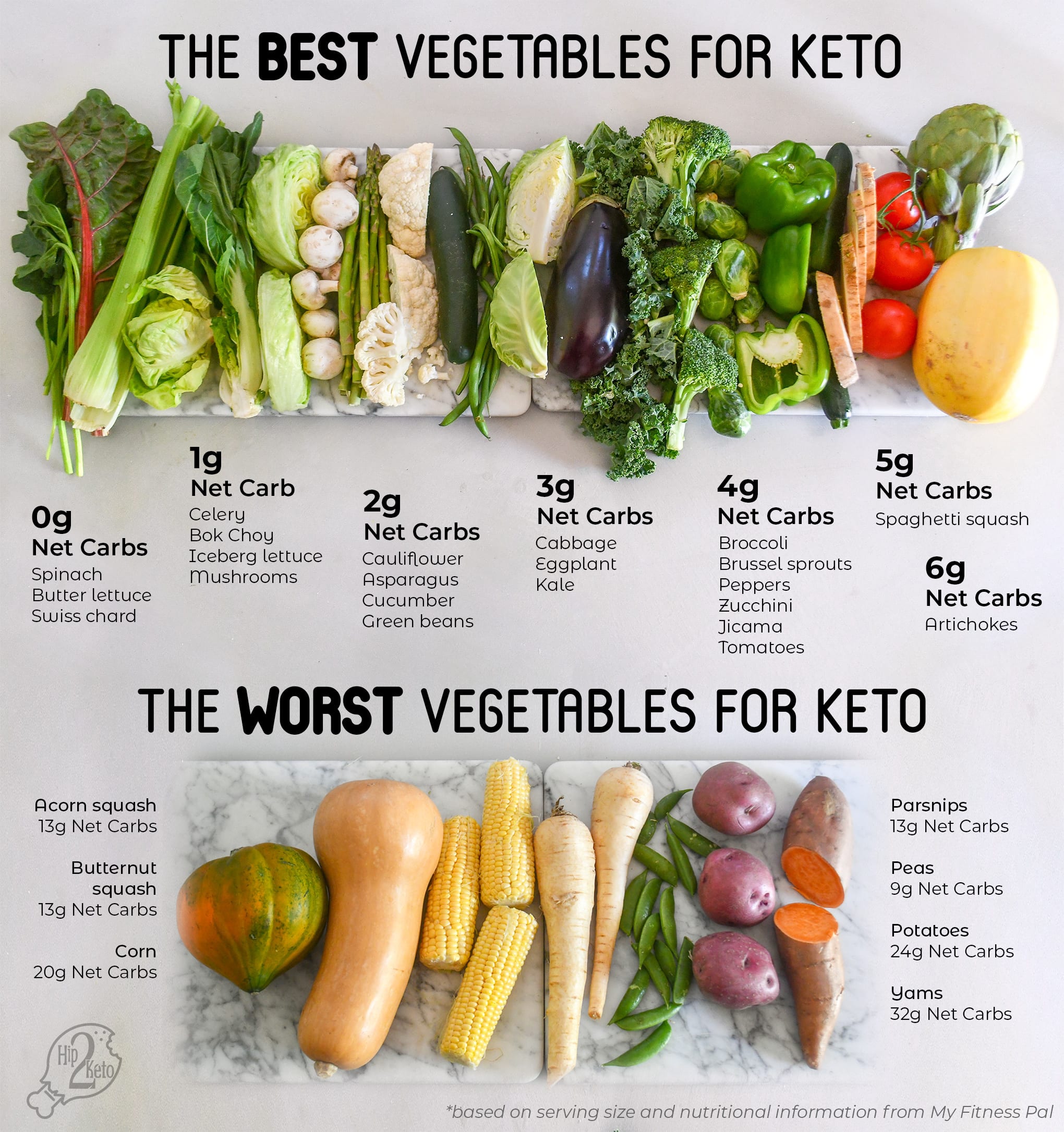 [mycbgenie_image_ad cols="3" rows="1" kws="diet" im_width="180" show_product_descr="1" default_font_family="1" fill_color="ffffff" link_color="0000ff" border_color="ffffff" hide_footer="1" tracking_id="alchlab"]