« ♥ Previous post | Next post ♥ »
The concept of eating fat, little carbohydrate to lose weight seems to us a bit weird, even after thinking about my Grand Parent eating habits! Time to do more research about Keto.
Keto Research 
A "Ketogenic" diet is a low-carb diet. The concept is to get more calories (energy) from protein and fat and less from carbohydrates like sugar, soda, pastries, starchy food and bread.
Getting energy from carbs is way easier than from fat. Converting energy from fat takes several additional chemical reactions compared to making energy from carbs. Our bodies can make energy from 3 primary sources:
Carbohydrates -> 1g of carbs gives 4 calories 

Fats -> 1g of fat gives 9 calories

Proteins -> 1g of protein gives 4 calories
Let see how fantastic our body is – this is a simplified version:
After eating, our glucose level (blood sugar) increases – carbs are being digested.
Cells of the pancreas are flagged to deliver insulin into our blood – these are called Beta cells and create hormones that control level of sugar in our blood by having it used for energy. Did you know that if our immune system can destroy the beta cells by "mistake"? If it happens, then you have type 1 diabetes – no or not enough beta cells = no or too little insulin = no control of blood sugar and other not fun stuff.
Insulin is a critical hormone that help process glucose to be used for energy and to be stored in the liver and muscle.
If glucose is in too much abundance, and not used for energy, it would be processed and stored in the liver as glycogen and/or converted by insulin (glucose regulator) in fatty acid and stored as fat in adipose tissue. WHAT? yes, too much glucose, too less energy used (too little exercise) = fat storage = weight gain…
As glucose moves to the cells for energy, the blood sugar level returns to a normal level (from 70 mg/dL to 120 mg/dL)
If excess energy is needed, then our body digs into the liver and muscles:
Other pancreatic cells release glucagon, a hormone that tells the body to produce glucose from glycogen in the muscles and liver and release it into the blood.
When levels of glycogen are low, a muscle protein is transformed into amino acids, then the liver uses these amino acids to make glucose through another set of biochemical reactions called gluconeogenesis.
Other sets of hormones help raise our blood sugar level: epinephrine (aka adrenaline) and cortisol. That is another story 🙂
Our body can use fat stored for energy by generating ketones – we will discuss those later.
Don't you think our body is a marvelous machine?
Energy is critical for our bodies to function – no energy… you see what I mean. During our Keto Research we found out the following:
Carbohydrates (carbs), proteins, and fats produce 100% of the energy needed. All three provide energy (measured in calories), but the amount of energy produced by 1 gram (1/28 ounce) differs:
4 calories in a gram of carbohydrate or protein

4 calories in a gram of protein

9 calories in a gram of fat
Another big difference is how fast they deliver energy –> Carbohydrates are the fastest, fats are the slowest. Meaning if our body needs energy quick, it will burn carbs. I also feel that carbs are easiest to convert to energy.
Carbohydrates, proteins, and fats are digested in the intestine, where they are broken down into their basic nutrients:
Fats into fatty acids and glycerol

Proteins into amino acids

Carbohydrates into sugars
The body uses these nutrients to make what it needs for growth, maintenance, and activity. Terrific machine, isn't it?
Let's see each of them for this Keto Research
Proteins
Proteins are based on amino acids, glued together in compound. Because proteins are complex, the body takes long time to break them down. Meaning they also last longer.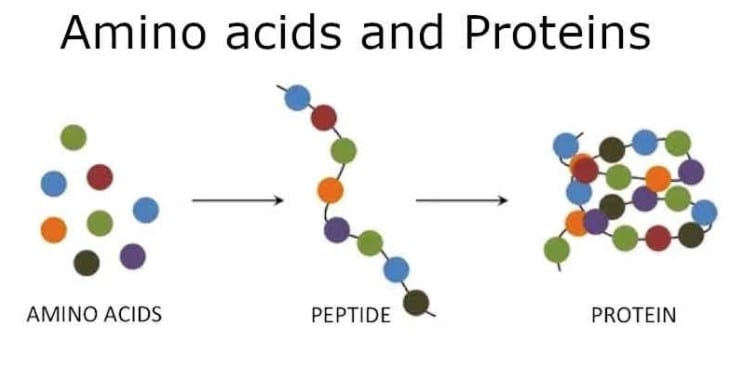 Did you know that there are 20 amino acids? Our body makes some of them from nutrients in our body, but 9 of them can't be synthesized, and these are essential amino acids. They must be consumed.
We all need eight of them: isoleucine, leucine, lysine, methionine, phenylalanine, threonine, tryptophan, and valine. Our little ones also needs the 9th amino acid, histidine. Histidine is needed to create of proteins. Lack of it for children can/will cause a lack of weight gain and of nitrogen retention. Histidine is derived from proteinaceous dairy and meat-based products. Going vegan for little ones can lead to serious growth problems.
Well, we need to eat protein for our body to function correctly and it's where things get interesting:
The percentage of protein the body can use to synthesize essential amino acids varies from protein to protein. The body can use 100% of the protein in egg and a high percentage of the proteins in milk and meats. The body can use a little less than half of the protein in most vegetables and cereals. Source: Medical News Today.
Let's look at these protein sources:
Isoleucine: Foods that have high amounts of Isoleucine include eggs, soy protein, seaweed, turkey, chicken, lamb, cheese, and fish.

Leucine: Foods that have high amounts of Leucine include whey protein, soy protein, pea protein, mature seeds, beef, peanuts, eggs, fish, etc.

Lysine: Foods that have high amounts of Lycine include eggs, meat (red meat), soy, beans, peas, cheese, fish.

Methionine: Foods that have high amounts of Methionine include eggs, meat, fish, sesame seeds, Brazil nuts. Most fruits and vegetables contain very little.

Phenylalanine: Foods that have high amounts of Phenylalanine include eggs, chicken, liver, beef, milk, and soybeans.

Threonine: Foods that have high amounts of Threonine include cottage cheese, poultry, fish, meat, lentils, and sesame seeds.

Tryptophan: Foods that have high amounts of Tryptophan include chocolate, oats, dates, dairy products, red meat, eggs, fish, poultry and several grains.

Histidine: Food that have high amount of protein include dairy and meat-based products.
Valine: Foods that have high amounts of Valine include soy, cheese, peanuts, mushrooms, whole grains, and vegetables – NOT in meat
Interesting… if you do not consume meat, dairy or fish, you might lack Methionine, Threonine, and Tryptophan. If you are strictly carnivore, you will definitively lack Valine. These are CRITICAL proteins and lacking might be dangerous. A research by M. T. FARRAN and O. P. THOMAS from the University of Maryland shows that the lack of Valine has a negative impact on kidney function and other not funny ailments.
During this Keto research you will notice many warning about too much and lack off. PLEASE CONSULT A MEDCAL SPECIALIST before embarking on a weight loss or weight gain journey.
Let's continue our research. The body needs protein to maintain and replace tissues and to function and grow. Protein is not usually used for energy. However, if the body is not getting enough calories from other nutrients or from the fat stored in the body, protein is used for energy.
Now the bad news… If more protein is consumed than is needed, the body breaks the protein down and stores its components as fat. Meaning that if you eat 10 time more protein that your body needs… you will pack fat… Same with carbs and sugar, too much of it will be turned into fatty acids and stored. Same with fat… too much will be stored away.
Our body uses large amounts of proteins. They are the bricks and concrete. Most or our cells are made of protein. Muscle, connective tissues, and skin are all built of protein.
How much protein? As adults, we need to eat 10 to 15% of total calories in protein. If we are building muscle, we will need slightly more. Children need more because they are growing. If we are reducing calories intake to lose weight, we need a higher amount of protein to prevent loss of muscle – remember muscle are made of protein.
Examples (using Calculator.net)
Subject A is a 40-year-old woman 5'6″ and 165lbs, Subject B is a 40-year-old man 5″6 and 165 lbs. Both doing light exercise.
| | | |
| --- | --- | --- |
| Goals | Subject A | Subject B |
| Maintain weight | Protein intake:120 grams/day | Protein intake: 134 grams/day |
| Lose weight 1 pound/week | Protein intake: 90 grams/day | Protein intake: 104 grams/day |
| Gain weight 1 pound/week | Protein intake: 151 grams/day | Protein intake: 165 grams/day |
Bottom line, our bodies and fantastic marvels and I wish someone would make a lab that functions as our body does.
Many talk about carbs and energy, but they are needed for other functions like the generation of ribose and deoxyribose. They are essential building blocks of critical macromolecules, like RNA, DNA, and ATP (Figure 3.4.3). Glucose is also used to make NADPH, a molecule important for protection against oxidative stress, used in many chemical processes in the body.
Fat is all bad, and it's all wrong. Fats help the body store many nutrients. Like "fat-soluble" vitamins A, D, E and K. Not fat around no storage of these precious vitamins. Cell membranes protect our cells. Guess who makes these membranes possible? Fat, in fact, cholesterol does (you know the good one).
Proteins, many say it's to build muscles, but it goes far beyond. Our body breaks down proteins into amino acids. They are used to building muscles and organs, but also to make hormones and antibodies, the surplus to be stored as fat, and to be burned as energy (if needed).
All 3 are needed. The lack of one will cause unhealthy balancing issues.
As a footnote in my Keto research, a 12oz steak contains 81g of protein, a 12oz chicken breast contains 104g and 12oz of unprocessed soy beans contains 167g of proteins but also contains 122g of carbs 🙁 let's talk carbs in the next post.
Interested? I recommend the book "The Protein Counter 3rd Edition" by Jo-Ann Heslin M.A. R.D. CDN and Karen J Nolan Ph.D. $10 on Amazon
Continue reading about our journey to weight loss
[mycbgenie_image_ad cols="3" rows="1" kws="diet" im_width="180" show_product_descr="1" default_font_family="1" fill_color="ffffff" link_color="0000ff" border_color="ffffff" hide_footer="1" tracking_id="alchlab"]