« ♥ Previous post | Next post ♥ »
We looked at the best of the best diet for weight loss and the top #1 doesn't seem to cut it, so we kept looking.
Looking at the best diet for weight loss
A few we scrapped quickly are:
High Fat,

aka Keto diet – REALLY? eat more fat to lose fat?


(we will come back on this one later)

Dukan Diet sounds interesting, but the rules are so restrictive, we don't think we could stick to it and it smells like the vegetarian diet, low meat, high veggies.

Whole30 Diet is another one we would have a problem sticking to. Cutting all sugar, grains and dairy, eating whole food ONLY… plenty or rules.

Carnivore diet… I'm not even waste my time commenting… as my wife says, we are NOT coyotes 🙂

etc…
We want an easy best diet for weight loss, not a military bootcamp style. We all want this, don't we?
One my wife liked is the DASH Diet – DASH stands for Dietary Approaches to Stop Hypertension. Highly, highly recommended by the National Heart, Lung, and Blood Institute, NHLBI in short.
DASH is based on what we are told to eat veggies, fruits, whole grains, lean meat and low-fat dairy products. Anything rich high in blood pressure-reducing nutrients like potassium, calcium, protein and fiber. Very low fatty meats, fatty cheese, etc. These contain saturated fat.
DASH also discourages using salt, which is bad for our blood pressure. DASH recommends sodium at 2,300 milligrams a day, but many lower to 1,500 milligrams.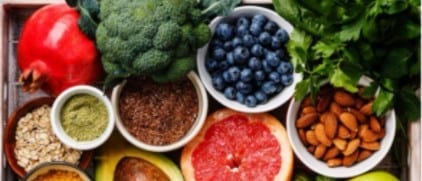 What does DASH include?
At least one vegetable or fruit serving to every meal (easy, we do that already)

Two or more meat-free meals each week (ok, can do that)

Herbs and spices to make food tastier without salt (no problem, we do that)

Salt-free Almonds or other nuts instead of a bag of chips (already doing that)

Switch white flour to whole-wheat flour when possible (not sure why,

but ok, and we are eating organic,

so done)

Take a 15-minute walk after food intake (We are already above our recommended daily steps)
Not sure what DASH will bring us. We already eat low-fat, all-organic fruits and veggies, and we walk and exercise at least 30 minutes a day… We do not check our salt intake, and I'm not 100% sure that less salt will lower our weight… NEXT!
What about the Flexitarian diet – #3 on the best diet for weight loss list.
Flexitarian is the union of flexibility and vegetarianism – it sounds like the vegetarian diet we tried for 3 months and didn't work for us. Let's see…
What does Flexitarian include?
First, a 5-week diet plan with breakfast, lunch, dinner and snack recipes but you can change the recipes between weeks, thus FLEXIBILITY.

Then, a three, four, and

five menus

:

light brekkie – around 300 calories

light lunch – 400 calories

dinners – 500 calories

snacks – about 150 calories each

For a total of

less than 1,500 calories a day.
Depending on activity

level, gender, height and weight, we could arrange the plan (FLEXIBILITY).
We did something like this, did we? And … it didn't work. Yet, I recommend reading the book by Dawn Jackson Blatner, "The Flexitarian Diet: The Mostly Vegetarian Way to Lose Weight, Be Healthier, Prevent Disease, and Add Years to Your Life", $17 on Amazon and quite interesting – we read it 🙂
Also, this diet recommends eating "Beyond Meat" instead of meat. I have a little problem with it as we are eating organic and natural food. This kind of meat is highly processed with ingredients I have a hard time pronouncing or things I do not think belong to my food:
Methylcellulose is synthetically produced from cooking cellulose. It is used as a laxative, a thickener in food and cosmetic products, but its most common use is as wallpaper glue.

Bamboo cellulose or wood pulp

Pea protein isolate, highly processed pea flour to keep the protein.

Monosodium Glutamate

Sodium Nitrite

Carrageenan

Sodium Benzoate

lots of salt and taste-enhancing agents

etc…
Looking closely, it sounds like the vegetarian diet we tried for 3 months, and I do not feel that for my wife and I, it belongs to the best diet for weight loss list.
We discovered that restricting the amount of dairy and eggs we ate hampered our efforts to lose weight, and with an already limited food selection, naturally, the diet became monotonous and unsustainable. We ultimately decided that although this style of eating could be a beneficial option for some people, it did not work for us.
We eventually found a diet that was much more successful in helping us reach our weight loss goals.
To finish, what is the diet for weight loss?
The diet for weight loss depends on individual goals and lifestyle. However, the general guidelines are to eat a balanced diet of whole foods, including plenty of fresh fruits and vegetables, lean proteins from plant and animal sources, and complex carbohydrates that are full of fiber.
Healthy fats such as nuts, seeds, avocados, and olive oil should also be included. Minimizing processed and refined foods and keeping portion sizes in check is also important.
Physical activity such as regular exercise, mindfulness, and stress reduction can help optimize weight loss results.
Taking regular breaks from physical activity, eating a nutritious and balanced diet, and drinking plenty of water are all key components of a successful weight-loss plan.
By incorporating all these elements, an individual can maximize their chances of achieving their goals.
Continue reading about our journey to weight loss