Buttery Keto Roasted Cauliflower easy recipe that will make your family come back for more – at home we never have to store any.
Like all cruciferous veggies (Brussels sprouts and Broccoli), this delicious veggie contains a complex sugar called raffinose. This sugar is difficult to break down, so it ends up in the large intestine undigested – bacteria ferment it – giving to gas and bloat – there is always my GrandMa easy solution – see at the end of this recipe.
Nutrition Facts:
(per serving)
Calories: 147
Fat: 13g
Protein: 3g
Carbs: 6g
Fibers: 2g
Keto Roasted Cauliflower with Bearnaise Sauce
preparation time: 5 minutes (not including time to make bearnaise sauce) cook time: about 20 minutes yield: 6 servings
Ingredients:
¼ cup (½ stick) melted unsalted butter, coconut oil, lard, or avocado oil
2 teaspoons minced garlic
1 medium head cauliflower, cored and separated into medium to large florets
2 teaspoons fine sea salt
1 batch Bearnaise Sauce
Fresh thyme leaves, for garnish (optional)
Keto Roasted Cauliflower
Preparation:
Preheat the oven to 450°F.
Place the melted butter and garlic in a small bowl and stir to combine.
Drizzle the melted garlic butter over the cauliflower and toss to coat.
Spread out the cauliflower on one or two rimmed baking sheets (don't overcrowd or they won't roast) and sprinkle with the salt.
Roast for 18 to 22 minutes, until dark golden brown (some like theirs a little charred).
Place the roasted cauliflower on a serving platter, drizzle with the bearnaise sauce, and garnish with thyme leaves, if desired.
Store the Keto roasted cauliflower and bearnaise sauce in separate airtight containers in the refrigerator for up to 3 days.
To reheat the dish, place on a baking sheet in a preheated 350°F oven for a few minutes or until warmed through. To reheat the sauce, see here.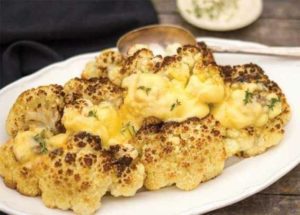 Why blanching? To soften hard to digest sugars, to have bright colored veggies when freezing.
To blanch vegetables, it's quite easy:
Bring a pan of water to the boil.
Prepare a bowl of iced water and a tray lined with kitchen paper.
Put the veggies in boiling water and blanch for about 2 minutes, depending on the size.
Remove with a slotted spoon (careful it's hot) and plunge into the bowl of iced water.
Pat dry, et Voila, ready to freeze or use immediately in a recipe.
[mycbgenie_image_ad cols="3" rows="1" kws="diet" im_width="180" show_product_descr="1" default_font_family="1" fill_color="ffffff" link_color="0000ff" border_color="ffffff" hide_footer="1" tracking_id="alchlab"]