Try these Keto Steak Fries Low Carb, perfect for when you crave a crunchy, salty snack. No need to use/have an air-fryer, and it helps to say goodbye to carbs and cravings. That's something on the menu that you can't resist.
This fried mushroom recipe I use is perfect. I call it keto steak fries that are crispy, salty, and low carb — with only 2g of carbohydrates per serving. My wife calls them keto chipsticks.
Stay on keto with this delicious fried potato recipe that has under 2g of carbs per serving. Make a bundle of these keto fried mushrooms today and forget about French fries cravings.
Nutrition Facts:
(per serving)
Calories: 171
Fat: 12g
Protein: 17g
Carbs: 2g
Fibers: 1g
Keto Steak Fries
Preparation time: 5 minutes (not including time to make dressing) cook time: 10 minutes yield: 4 servings
Keto Steak Fries
Ingredients:
2 large eggs
1 cup powdered Parmesan cheese (see here)
2 large portobello mushrooms, sliced into ¼-inch- thick sticks
Coconut oil, for frying
Cilantro Lime Ranch Dressing , The Best Blue Cheese Dressing , or pizza sauce, homemade or store-bought (must be low-carb), for serving
Keto Steak Fries
Preparation:
In a shallow bowl, beat the eggs.
Place the Parmesan cheese in another shallow bowl.
Dip the portobello sticks into the eggs, then roll them in Parmesan, using your hands to coat each fry well.
Put enough coconut oil in a 4-inch-deep (or deeper) cast-iron skillet so that it is about 1½ inches deep.
Heat the oil to 350°F. Fry the fries in 2 batches for about 5 minutes per batch, until golden brown.
Remove from the skillet and place on paper towels to drain.
Arrange the fries on a serving platter.
Serve with the keto dipping sauce of your choice.
These Keto Steak Fries are best served fresh, but any extras can be stored in an airtight container in the refrigerator for up to 3 days. To reheat, place the fries on a rimmed baking sheet and broil for 3 minutes or until crispy.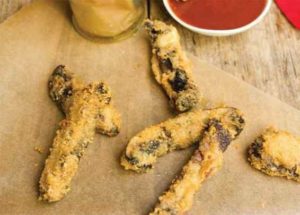 [mycbgenie_image_ad cols="3" rows="1" kws="diet" im_width="180" show_product_descr="1" default_font_family="1" fill_color="ffffff" link_color="0000ff" border_color="ffffff" hide_footer="1" tracking_id="alchlab"]