Keto Biscuits and Gravy with only 2g of carb per serving? You won't believe it until you try this recipe.
This Keto Biscuit and Gravy are the perfect breakfast food for any Keto dieter. With only 2g of carbs per serving, you can enjoy the crispy crumb on the outside, soft and chewy on the inside without having to worry about ruining your diet.
Try this keto recipe, only 2g of carb per serving – Tell us what you think!
Nutrition Facts: (per serving)
Calories: 359
Fat: 31g
Protein: 14g
Carbs: 5g
Fibers: 2g
Garlicky Cheddar Keto Biscuits and Gravy
preparation time: 15 minutes cook time: 15 minutes yield: 8 servings
Keto Biscuits Ingredients
1 large egg whites
2 cloves garlic, minced
1 cup blanched almond flour, plus extra if needed 1 teaspoon baking powder
¼ teaspoon fine sea salt
2 tablespoons very cold unsalted butter (or lard if dairy-free), cut into ¼-inch dice
½ cup sharp cheddar cheese cut into ¼-inch dice (omit for dairy-free)
Gravy Ingredients
10 ounces bulk pork sausage, crumbled
¼ cup minced onions 2 cloves garlic, minced
1 (8-ounce) package cream cheese (Kite Hill brand cream cheese style spread if dairy-free), softened
1 cup beef or chicken bone broth, homemade (here) or store-bought
Fine sea salt and ground black pepper
Keto Biscuits Preparation
Preheat the oven to 400°F. Grease a baking sheet or 8 wells of a standard-size 12- well muffin pan with coconut oil spray.
In a medium-sized bowl, whip the egg whites until very stiff, then gently mix in the garlic. Set aside.
In a separate medium-sized bowl, stir together the almond flour, baking powder, and salt until well combined. Cut in the cold diced butter until the butter pieces are pea-sized or smaller. Gently fold the dry mixture into the egg whites. Fold in the cheese. If the dough is too wet to form into mounds, add a few tablespoons of almond flour until the dough holds together well.
Using a large spoon, dollop the dough onto the greased baking sheet (or into the greased muffin cups), making 8 biscuits total. Bake for 11 to 15 minutes, until golden brown.
 Meanwhile, make the gravy: Place the sausage, onions, and garlic in large skillet over medium heat. Cook for 5 to 6 minutes, stirring frequently, until the sausage is browned. Gradually add the cream cheese and broth; cook, stirring constantly, until the mixture comes to a gentle simmer, thickens, and becomes smooth. Reduce the heat to medium-low and simmer for 2 minutes to thicken the gravy further, stirring constantly. Season to taste with salt and pepper.
To serve, split the biscuits in half. Place 2 halves on a plate, then top with about ⅓ cup of the sausage gravy. Repeat with the rest of the biscuits and gravy.
Store extras in separate airtight containers in the refrigerator for up to 3 days. Reheat the biscuits on a baking sheet in a preheated 350°F oven for 5 minutes or until warmed through. Reheat the gravy in a saucepan over medium-low heat until warmed, stirring constantly. If the gravy has become too thick, add a little water when reheating it.
Tip: When making these Keto biscuits, it's very important that the butter be very cold; if it's not, the biscuits won't turn out.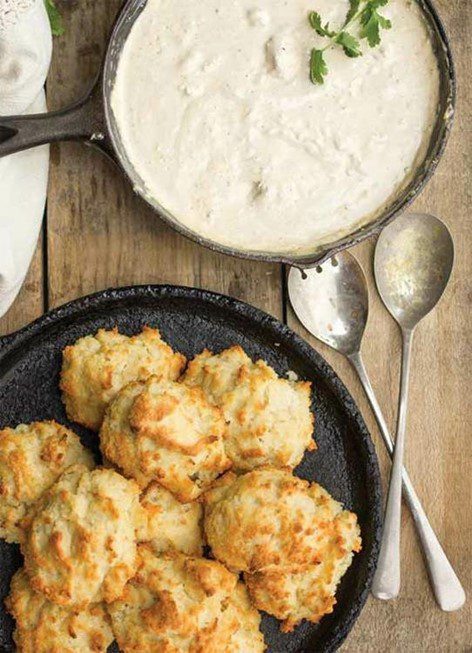 [mycbgenie_image_ad cols="3" rows="1" kws="diet" im_width="180" show_product_descr="1" default_font_family="1" fill_color="ffffff" link_color="0000ff" border_color="ffffff" hide_footer="1" tracking_id="alchlab"]