Dieters, Here's a Keto Quiche Loraine for You!
Do you like to enjoy the taste of a quiche but also want to stay in ketosis? The Keto Quiche Lorraine will delight your taste buds with its flavor and only 2g of carbs!
This Keto Quiche Lorraine is the perfect solution for low-carb dieters who can still enjoy their favorite pastry. Taste the delicious difference today and feel great about your weight loss!
Nutrition Facts: (per serving)
Calories: 365
Fat: 25g
Protein: 33g
Carbs: 2g
Fibers: 0.2g
Keto Quiche Lorraine
preparation time: 5 minutes cook time: 25 minutes yield: 2 servings
Ingredients:
2 strips of bacon, diced 3 large eggs
¾ cup unsweetened cashew milk or almond milk (or hemp milk if nut-free)
¼ cup unflavored egg white protein powder (or other protein powder, such as beef)
1 teaspoon baking powder 1 teaspoon fine sea salt
2 teaspoons diced fresh chives
½ cup sharp cheddar cheese (or nutritional yeast if dairy-free), divided
Keto Quiche Lorraine Preparation
Preheat the oven to 425°F.
Place the diced bacon in a medium-sized cast- iron skillet or other oven-safe skillet.
Set the pan over medium heat and cook until the bacon is crisp, about 5 minutes.
Leave the bacon drippings and half of the bacon in the pan; remove the other half of the bacon and set aside.
In a blender, combine the eggs, cashew milk, protein powder, baking powder, and salt.
Blend for about 1 minute, until foamy.
Add the chives and ¼ cup of the cheese.
Pour the mixture into the hot skillet over the bacon.
Transfer the skillet to the oven and bake for 10 minutes.
Remove from the oven and top with more cheese.
Bake for another 10 minutes or until the crust is puffed and golden brown.
Cut into wedges, garnish with the reserved bacon, and enjoy!
Store extras in an airtight container in the refrigerator for up to 3 days. Reheat on a rimmed baking sheet in a preheated 350°F oven for 5 minutes or until warmed through. Enjoy!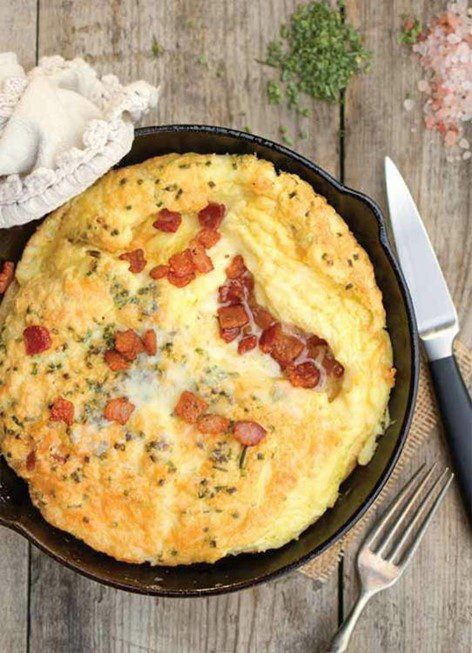 [mycbgenie_image_ad cols="3" rows="1" kws="diet" im_width="180" show_product_descr="1" default_font_family="1" fill_color="ffffff" link_color="0000ff" border_color="ffffff" hide_footer="1" tracking_id="alchlab"]