Craving a delicious, easy to make Browned Butter Mocha Keto Latte?
Join the thousands of people who've swapped their coffees for this guilt-free drink. Made from only a few ingredients and with 5g of carbs, you don't have to miss out on the latte experience any more.
This is not your average latte. It is rich, decadent, and nutritious. Drink up! This 273 calories coffee has been called "the best thing since sliced bread." It's no wonder why! 5g of Carbs!
Nutrition Facts:
Calories: 273
Fat: 27g
Protein: 4g
Carbs: 5g
Fibers: 2g
Browned Butter Mocha Keto Latte Recipe
Preparation time: 3 minutes (not including time to brew coffee or whip cream) cook time: 10 minutes yield: 1 serving
When I was in college, I loved a coffee shop called Best Ground. I loved their Mocha Latte… until I realized it came with 45g of carb 😨Imagine I try to stay at or below 20g a day… unless I find a Keto Late recipe, no more deliciousness  – Done and this one is really outstanding – Try it!
Ingredients:
2 tablespoons unsalted butter (or butter-flavored coconut oil if dairy-free)
1¼ cups unsweetened cashew milk (or hemp milk if nut-free)
2 tablespoons unsweetened cocoa powder, plus extra for garnish (optional)
tablespoons Swerve confectioners' style sweetener or equivalent amount of liquid or powdered sweetener
tablespoons hot brewed decaf espresso or other strong brewed decaf coffee
Whipped cream, for garnish (optional but HIGHLY recommended)
Special equipment (optional) Immersion blender
Browned Butter Mocha Keto Latte Recipe:
Place the butter in a saucepan over high heat, stirring, until the butter froths and brown flecks begin to appear, about 5 minutes. It is browned If using butter-flavored coconut oil, heat the oil just until melted.
Reduce the heat to medium and slowly whisk in the cashew milk. It will sizzle as you add it to the browned Heat until warmed through. (In small coffee shops, they heat it to between 145°F and 165°F.)
Stir in the cocoa powder and sweetener. If desired, insert an immersion blender and blend until the mixture resembles a frothy latte, about 1 minute.
Pour the espresso into a large mug.
Add the hot milk mixture and stir well by hand or using the blender.
Serve this Keto latte immediately, garnished with whipped cream and a sprinkle of unsweetened cocoa powder, if desired (I always do 😊).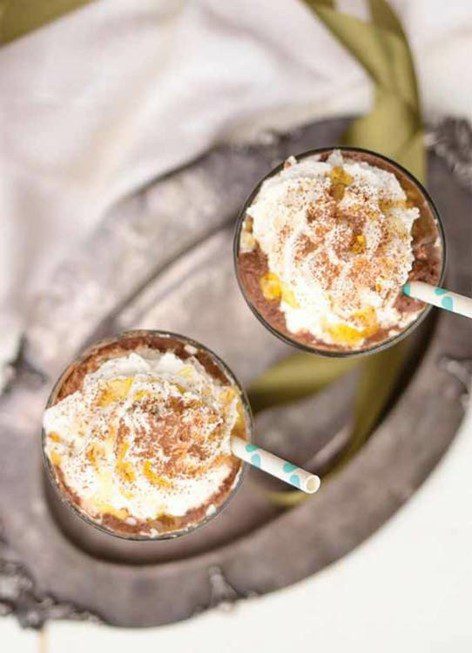 [mycbgenie_image_ad cols="3" rows="1" kws="diet" im_width="180" show_product_descr="1" default_font_family="1" fill_color="ffffff" link_color="0000ff" border_color="ffffff" hide_footer="1" tracking_id="alchlab"]