This Keto Buffalo Chicken Cannoli appetizer is ideal for parties and holidays, too. The best part is that it's easy to make and comes with just 3 grams of carbs per serving.
Who doesn't want to indulge in a delicious and guilt-free flavor?
With this dish, you get all the flavors of buffalo chicken, greasy goodness, and carbs-free satisfaction. Get ready for your guests to rave over this new keto twist on an old favorite!
Make some Keto Buffalo Chicken Cannoli now!
To make this recipe even easier, use leftover cooked or organic rotisserie poulet (as the French call it)  from the grocery store if no sugar added.
Nutrition Facts:
(per serving)
Calories: 441
Fat: 31g
Protein: 36g
Carbs: 3g
Fibers: 0.4g
Low Carbs Buffalo Chicken Cannoli
preparation time: 10 minutes cook time: 1 hour 45 minutes yield: 4 servings
Ingredients:
3 tablespoons bacon fat, lard, or ghee
4 chicken leg quarters (about 3 pounds) 1½ teaspoons fine sea salt
½ teaspoon ground black pepper
¼ cup diced onions
1 teaspoon minced garlic
1 cup chicken bone broth, homemade (here) or store-bought
¼ cup wing sauce or other medium-hot to hot sauce
Keto Cannoli Tubes
Ingredients:
1 cup grated hard cheese, divided such as Parmesan, Asiago, or aged Gouda for garnish
4 tablespoons wing sauce or other medium-hot to hot sauce, divided
4 tablespoons crumbled blue cheese, divided
Celery sticks, for serving
Keto Buffalo Chicken Preparation:
To make the chicken, heat the fat in a deep sauté pan over medium-high heat.
Season the leg quarters with the salt and pepper, place them in the hot fat, and sauté for about 8 minutes, until golden brown on all sides.
Add the onions and garlic and cook over medium heat for about 8 minutes, stirring occasionally, until the onions are golden brown.
Add the broth and hot sauce and simmer, covered, over medium heat for about 1½ hours, until the chicken is almost falling off the bone.
About 25 minutes before the chicken is done, make the cannoli tubes:
Preheat the oven to 375°F. Have on hand 2 cylindrical objects, about 1 inch in diameter (I use spice jars for this Keto Buffalo Chicken recipe).
Place a sheet of parchment paper on a rimmed baking sheet and grease the parchment with coconut oil spray.
Place ¼ cup of cheese in a circle about 4 inches in diameter.
Repeat with another ¼ cup of cheese to make a second 4-inch circle, leaving at least 2 inches of space between them. Bake for 4 to 5 minutes, until golden brown.
When you remove the baking sheet from the oven, you will need to move quickly.
Using a spatula or knife, transfer the rounds of cheese to the cylindrical objects and form them around the molds.
Allow cooling for 10 minutes before removing from the molds.
Repeat with the remaining cheese to make a total of 4 tubes. (Note: Once you're practiced at making cheese tubes, you can make up to four at a time, my wife makes 8 🙂 )
When the chicken is done, remove the leg quarters from the pan and allow them to cool until you can handle them.
Pull the meat off the bones, then chop it.
To serve, fill the cooled cheese tubes with the chopped chicken.
Place each cannoli on a serving plate, drizzle with 1 tablespoon of hot sauce, and top with 1 tablespoon of blue cheese crumbles.
Serve with celery sticks.
These Keto Buffalo Chicken cannoli are best served fresh, but any extra buffalo chicken and cannoli tubes can be stored in separate airtight containers in the refrigerator for up to 3 days.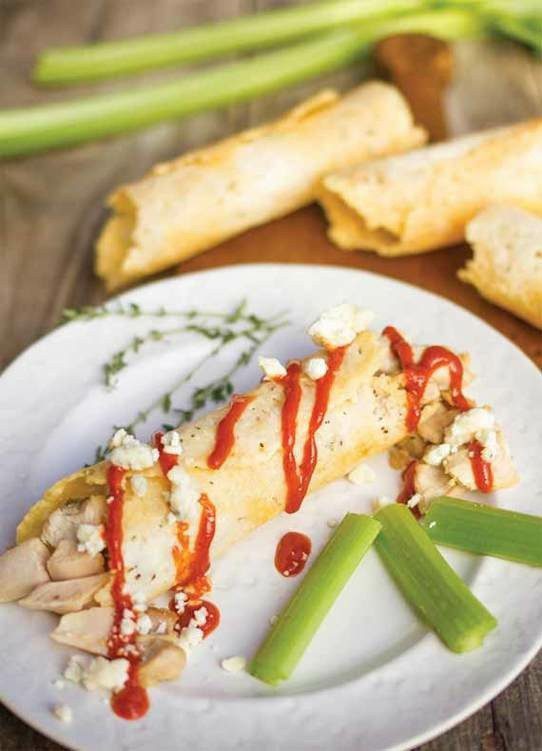 Loading......