Getting the perfect lovers' omelet – Keto recipe can be difficult and time-consuming. You have to make sure that everything you eat doesn't have carbs or sugar and if it does, it's not worth eating.
It can be a struggle to make keto-friendly omelet quickly, but this one is big enough to feed two people, but it also only has 6g of carbs per serving. This is perfect for any keto dieters – Try it!
Nutrition Facts: (per serving)
Calories: 576
Fat: 46g
Protein: 30g
Carbs: 6g
Fibers: 1g
Lovers' Omelet – Keto Recipe
preparation time: 15 minutes cook time: 15 minutes yield: 2 servings
This lover's omelet is no joke: it is so large that it feeds two people!
Ingredients:
1 tablespoon plus 1 teaspoon ghee or unsalted butter, divided (I use ghee)
¼ cup diced onions
¼ cup sliced mushrooms
2 tablespoons diced green or red bell peppers
¼ cup ground pork or beef
¼ teaspoon fine sea salt, divided 4 large eggs, beaten
¼ cup diced Canadian bacon
¼ cup shredded sharp cheddar cheese, plus extra for garnish
Sliced green onions, for garnish
¼ cup salsa, for serving
¼ cup sour cream, for serving
Lovers' Omelet – Keto Recipe Preparation
Melt 1 tablespoon of the ghee in a saucepan over medium-low heat.
Add the onions, mushrooms, and bell peppers and cook, stirring, until the onions and peppers are soft and the mushrooms are golden.
Add the ground meat and sauté until cooked through, about 3 minutes.
Season with ⅛ teaspoon of the salt.
In a mixing bowl, combine the eggs, Canadian bacon, 2 tablespoons of water, and remaining ⅛ teaspoon of salt and stir well. Set aside.
Heat a 12-inch skillet over medium-low heat.
Add the remaining teaspoon of ghee and swirl to coat the pan.
Pour in the egg mixture. Cover and cook until the eggs are almost set.
Remove the lid and sprinkle in the cheese to cover the entire omelet.
Place the vegetable filling on top of the cheese.
Fold the omelet in half and place on a serving platter.
Sprinkle with additional cheese and green onions.
Serve with the salsa and sour cream.
Store any leftovers of this lovers' omelet – keto recipe in an airtight container in the refrigerator for up to 3 days. Reheat in a sauté pan over medium heat for a minute or two until warmed through. Enjoy!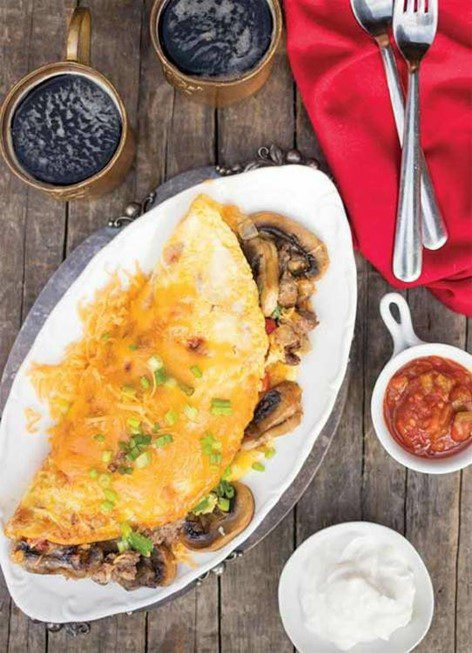 [mycbgenie_image_ad cols="3" rows="1" kws="diet" im_width="180" show_product_descr="1" default_font_family="1" fill_color="ffffff" link_color="0000ff" border_color="ffffff" hide_footer="1" tracking_id="alchlab"]