These keto stuffed Portobello mushrooms are a great appetizer, snack, or meal. They are low in carbs (2g) and high in flavor.
Want to cook something easy and delicious? Try out this recipe. It tastes like you spent a lot of time preparing, but it's only two minutes to make!
You can't go wrong with this keto recipe. It's a simple and versatile dish that can be served as an appetizer, lunch or dinner. We also use it as a side to any meat.
Nutrition Facts:
(per serving one mushroom)
Calories: 271
Fat: 23g
Protein: 13g
Carbs: 2g
Fibers: 0.2g
Keto Stuffed Portobello Mushrooms
preparation time: 5 minutes (not including time to make dressing) cook time: 10 minutes yield: 6 servings
Ingredients:
6 large baby portobello (aka Cremini) mushrooms, about 3 inches in diameter
4 ounces cream cheese (½ cup), softened
½ teaspoon fine sea salt
3 dashes hot sauce, or to taste
2 ounces blue cheese, crumbled
6 strips bacon, cut in half lengthwise
½ batch The Best Blue Cheese Dressing, for serving – some can have a huge amount of sugar so read the nutrition label.
Keto Stuffed Portobello Mushrooms Preparation:
Preheat the oven to 400°F.
Line a rimmed baking sheet with parchment paper.
Remove the stems from the mushrooms and finely chop the stems (I use a food chopper for this task).
Place the chopped stems in a small bowl.
Add the softened cream cheese, salt, and hot sauce.
Taste and add more hot sauce, if desired – always remember like for salt, you can easily add more, not remove a little!
Place the mushroom caps on the lined baking sheet, cavity side up.
Stuff the cream cheese mixture into the mushroom caps.
Top the filling with the blue cheese crumbles.
Wrap 2 bacon halves around each mushroom cap, forming a cross, and secure the bacon ends with a toothpick; otherwise, the bacon will curl up as it cooks.
Bake the mushrooms for 10 minutes or until the bacon is cooked to your liking. Serve with blue cheese dressing.
Store any extras Keto stuffed Portobello mushrooms in an airtight container in the refrigerator for up to 4 days. Reheat on a rimmed baking sheet in a preheated 400°F oven for 4 minutes or until the bacon is crisp and the mushrooms are warmed through.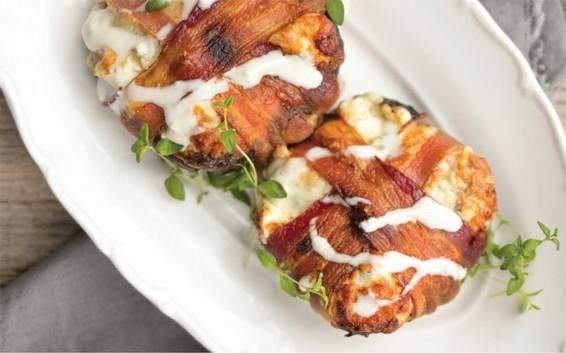 [mycbgenie_image_ad cols="3" rows="1" kws="diet" im_width="180" show_product_descr="1" default_font_family="1" fill_color="ffffff" link_color="0000ff" border_color="ffffff" hide_footer="1" tracking_id="alchlab"]