You, readers, support my website. I sometimes earn affiliate links when you buy through the affiliate links on my website. See Disclaimer.
In these Keto Fat Bombs, all of your favorite pizza flavors, without the worries of carbs!
Do you love pizza? Who doesn't? Pizza flavored fat bomb are a must-have for your ketogenic diet, and they are Yum!
Not only will you be satisfied with these low carb and keto-friendly fat bomb snacks, they won't blow your keto diet like traditional pizza.
Try this recipe today, fast and easy to make.
Nutrition Facts:
(per serving 1 bomb)
Calories: 142
Fat: 13g
Protein: 4g
Carbs: 1g
Fibers: 0g
Pizza Keto Fat Bombs
preparation time: 5 minutes, plus time to chill overnight yield: 8 bombs (1 per serving)
Keto Pizza
Ingredients:
1 (8-ounce) package cream cheese, softened
¼ cup powdered Parmesan cheese
3 tablespoons pizza sauce, homemade or store-bought, plus extra for serving (optional)
1 teaspoon Italian seasoning, plus extra for garnish (I prefer organic and it's optional)
¼ teaspoon red pepper flakes (optional)
1 cup mini pepperoni slices or finely diced pepperoni Extra-virgin olive oil or avocado oil, for drizzling (optional)
Pizza Keto Bombs
Preparation:
In a bowl, place the cheeses, pizza sauce, Italian seasoning, and red pepper flakes.
Mix until smooth.
Cover and place in the refrigerator to thicken overnight.
Remove the cheese mixture from the fridge.
Take 2 tablespoons of the mixture and roll it into a golf ball.
Repeat with the remaining cheese mixture, making a total of 8 balls.
Roll the balls in the pepperoni.
Garnish with a sprinkle of Italian seasoning and a drizzle of olive oil and serve with additional pizza sauce, if desired.
Store the extras Keto Fat Bombs in an airtight container in the refrigerator for up to 3 days.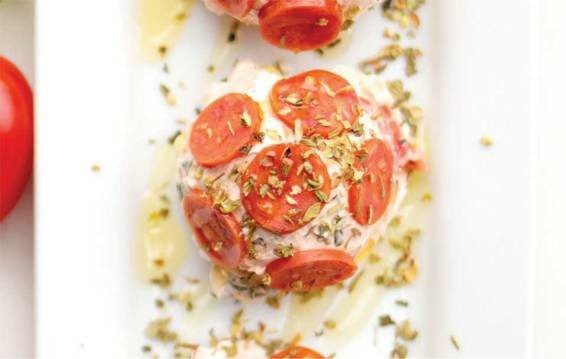 [mycbgenie_image_ad cols="3" rows="1" kws="diet" im_width="180" show_product_descr="1" default_font_family="1" fill_color="ffffff" link_color="0000ff" border_color="ffffff" hide_footer="1" tracking_id="alchlab"]