The ketogenic diet has become increasingly popular in recent years. But what is it? And what are the benefits of the keto diet and its drawbacks?
The keto diet is a high-fat, low-carbohydrate diet. It's similar to the Atkins diet and other low-carb diets. The goal of the keto diet is to force your body to burn fat, rather than carbohydrates, for energy.
When you eat a lot of carbohydrates, your body converts them into glucose, which is then used for energy.
When you consume more than needed for a day's worth of energy, your body converts the glucose to glycogen in muscles and liver for about a day's worth of energy.
When the glycogen tanks are full then, your body converts the glucose/glycogen in to FAT… WHAT? impossible… right?
Well… According to Berley University and many other medical experts, consumed carbs are transformed into glucose, a quick source of energy. The leftovers are stored in the liver and muscle as glycogen. The remaining glucose is converted into fatty acids called triglycerides, which are sent to other parts of the body and stored as fat in adipose tissue.
Guess who makes that fatty acid conversion? Insulin… you know what happens when people have insulin deficiency… too much glucose in their blood and are diabetic. A simple explanation but easy to understand – at least for me 🙂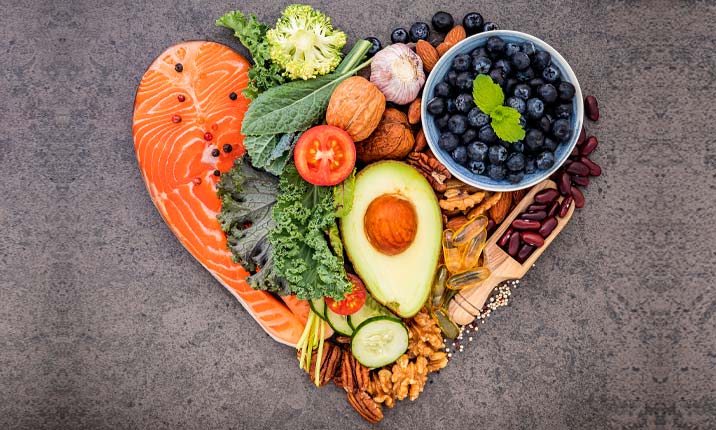 Let's talk about triglycerides
A type of fat is what they are. Triglycerides are the most frequent type of fat in our body and come from foods, mostly fats we eat.
Triglycerides also come from extra the extra glucose our body doesn't need.
Triglycerides are the main constituents of body fat in humans, animals, and also found in vegetable fat.
They are critical to our body:
Positive ways:
They enable the transfer of blood glucose from the liver
They are a major component of human skin oils
etc.
Negative ways:
They harden of the arteries (arteriosclerosis) thus risk of stroke, heart attack and heart disease
Extreme high triglycerides can also cause pancreatitis (the pancreas is where the insulin is made)
etc…
So, lose/lose situation, not enough is not good, too much is bad. That's when we can see the health benefits of the keto diet.
When you cut back on carbs, your body has to find another source of energy as there are too few carbs to breakdown for energy.
That's where the ketones come in. Ketones are chemicals made in your liver from fatty acids.
Our body produces Ketones when:
We don't have enough of insulin in your body to turn glucose into energy – medical issue.
We don't eat enough carbs and our body needs another source of energy: fat – Ketogenesis
We don't eat enough – Fasting
We have intense exercise – Athletes
We drink way too much – Alcoholism
Ketones are produced when your body breaks down fat for energy. It's what keto diet benefits for weight loss. Burning fat 🙂
The keto diet: what are the benefits and drawbacks?
The benefits of the keto diet include weight loss, increased energy, and improved mental clarity.
Let's look at each, first weight loss:
The ketogenic diet helps with weight loss in many ways, such as burning stored fat for energy, reducing appetite (filling full) and boosting metabolism.
We definitively realize our appetite reduction as the food fills us up quicker. It may lower hunger-stimulating hormones.
In a 2013, thirteen randomized controlled trials, researchers found that people on ketogenic diets lost more pounds than those on a low-fat diet. The trial ran for over 1 year.
Now benefits of keto diet besides weight loss:
Improves acne. Early studies found that high in sugar and refined carbs diets worsened acne. Thus many think that a ketogenic diet might help with acne. I have not found any serious confirmation and we are "too old" for acne thus… I will not make statements about it.
May reduce the risk of certain cancers and infections. This one is controversial. This paper by the Research Program for Receptor Biochemistry and Tumor Metabolism says that:
Ketogenic diets (KDs) can enhance the efficacy of classical antitumor therapies.

Effect of KDs on proliferation is tumor type dependent.

Application of KDs to cancer patients is generally well tolerated.

Low-carbohydrate and KDs increase quality of life of cancer patients.

More research is needed

From https://www.sciencedirect.com/science/article/pii/S2212877819304272
Others say that even though cancers feed on carbs, red meat will cause cancer. I know some researches are being conducted in other countries like Brazil and Argentina. But the bottom line is there is no bottom line!
keto diet advantages and disadvantages
The keto diet has many potential health benefits:
Studies suggest that the keto diet may improve heart health by reducing triglycerides and LDL cholesterol levels, and by increasing HDL cholesterol levels.
The keto diet may also protect brain function by reducing inflammation and improving mitochondrial function.
The keto diet may reduce seizures by providing a more stable blood sugar level..
The keto diet is beneficial in PCOS patients by helping with insulin resistance and regulating androgens. While more research needs to be done in this area, the keto diet is a promising option for women with PCOS.
Potential risks and complications.
The drawbacks include the potential for negative health effects, such as kidney stones and decreased bone density. I will write more as soon as I find proper studies, not just opinions.
If you're thinking of trying the keto diet, talk to your doctor first to see if it's right for you.
Conclusion
So, what are the benefits and drawbacks of the keto diet?
The main benefit of the keto diet is that it can help you lose weight. In one study, people who followed a keto diet lost more weight than those who followed a calorie-restricted diet.
The main drawback of the keto diet is that it can be restrictive. It can be difficult to stick to a diet that requires you to eat so few carbohydrates, and, as with any diet, there are potential side effects, such as constipation, headaches, and fatigue.
Regarding restrictiveness, it's a lifestyle change in the long run. See my post – and the hardest for us was/is cravings like chocolate for me and bread for my lovely wife.