Keto Creamed Collards Recipe – Very Easy
You don't know what you are missing if you have not tried this delicious, easy-to-make, and only 1g of carbs per serving Keto Creamed Collards Recipe.
This Keto Creamed Collards dish is perfect for the keto diet because it's low in carbs and can be served as a side dish or as a low-carb main course and comes with a good load of Potassium, Vitamin C, Calcium, Iron, Vitamin B6, etc.
Believe me, after tasting this delicious Keto Creamed Collards recipe, you will never order collards from the restaurant again!
By the way 🙂 Are you superstitious? Have you ever heard that eating collard greens on New Year's Day brings good fortune for the new year? Here is a perfect recipe to celebrate!
Nutrition Facts:
(per serving)
Calories: 2
Fat: 2g
Protein: 2g
Carbs: 1g
Fibers: 0g
Keto Creamed Collards Recipe
with Browned Butter and Bacon
preparation time: 10 minutes cook time: 25 minutes yield: 8 servings
Keto Creamed Collards
Ingredients:
4 strips thick-cut bacon, diced
½ cup (1 stick) unsalted butter (or coconut oil if dairy- free)
2 cups chicken bone broth, homemade or store-bought
1 cup finely chopped onions 1 bay leaf
3 pounds (2 small bunches) collard greens
½ cup heavy cream (or full-fat coconut milk if dairy- free)
2 cloves garlic, smashed to a paste
1 tablespoon coconut vinegar or apple cider vinegar
¾ teaspoon fine sea salt
½ teaspoon ground black pepper
Keto Creamed Collards Recipe:
In a large saucepan, cook the diced bacon over medium heat until slightly crisp, about 5 minutes.
Remove the bacon and drippings to a bowl and set aside.
Place the butter in the same saucepan and cook over high heat for about 5 minutes, whisking.
The butter will start to sizzle and foam up.
Watch for brown (but not black!) flecks; when they begin to appear, lower the heat.
While whisking, slowly adds the broth, then add the onions and bay leaf.
Bring to a boil and allow to boil for 5 minutes. (Note: If using coconut oil instead of butter, put the oil, broth, onions, and bay leaf in the pan at the same time and boil for 5 minutes.)
Meanwhile, prepare the collards for this :

Remove and discard the ribs and stems.
Coarsely chop the collard leaves.

Stir the greens, cream, garlic, vinegar, salt, and pepper into the broth mixture.
Boil for 10 minutes or until the greens are tender.
Stir in the reserved bacon and drippings and serve.
Store extras from this Keto creamed collards recipe in an airtight container in the refrigerator for up to 3 days. Reheat in a saucepan over medium heat for a few minutes or until warmed through.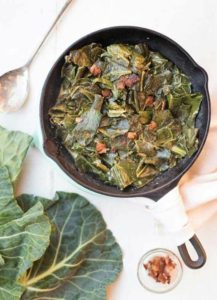 [mycbgenie_image_ad cols="3" rows="1" kws="diet" im_width="180" show_product_descr="1" default_font_family="1" fill_color="ffffff" link_color="0000ff" border_color="ffffff" hide_footer="1" tracking_id="alchlab"]